Once I was living in an orphanage in the mountains and I shouldn't have been and I almost caused a riot. It was because of the carrot.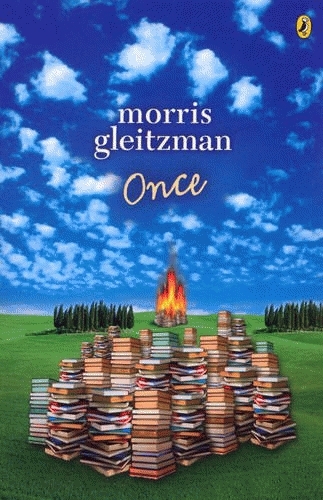 When I first started planning Once I had no idea that a 10 year old Polish Jewish boy would take me on the writing journey of my life. I just wanted to write a story about a friendship. A wonderful friendship between two young people who can't believe their luck because they've found what most of us want more than anything. A true friend.
I knew the characters would discover that you don't need money or heroic deeds or contacts in high places to enjoy this precious gift. You don't even need much of an education or particularly posh clothes. Just that special person.
But I didn't want the story to be too cosy and safe. I wanted to explore every part of friendship. To investigate how friendship survives in tough times. To see if friendship can be tough too.
So I decided to place the two young friends in the middle of the most unfriendly human behaviour possible, on the largest scale I could think of. Which of course meant wartime.
I didn't have to think too long about which war, or which example of huge-scale human unfriendliness. While growing up I'd discovered that my own family had a distant connection with a truly terrible one.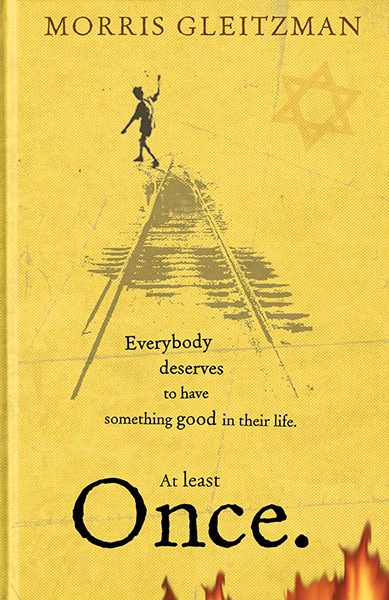 From 1939 until 1945, I'd learned, the world had been at war and the leader of Germany, Adolf Hitler, had tried to destroy the Jewish people in Europe. I had struggled to comprehend that his followers, the Nazis, and those who supported them, murdered six million Jews including one and a half million children. They also killed a lot of other people, some of whom offered shelter to the Jews. I learned that we call this time of killing the Holocaust.
My grandfather was a Jew from Krakow in Poland. As a young man he left Poland, decades before the Holocaust, and ended up living in England. But many members of his family stayed in Poland and most of them were killed by the Nazis.
So researching and writing Once became a personal journey. It took me to Poland for the first time. To the streets of Kazimierz, the ancient Jewish area of Krakow, and to the Jewish cemetery where I found a memorial with my family name on it.
And it allowed me to meet, in my imagination, a boy called Felix. I meet all my characters in my imagination, but never before had I encountered one who stood as an ambassador for so many real children, for so many young lives shattered.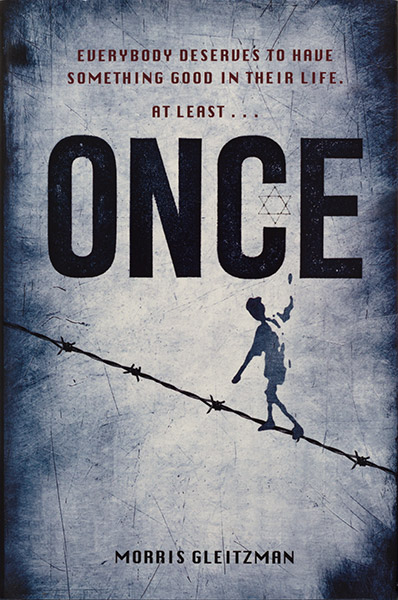 I also met in my imagination a man called Barney. Years earlier I'd read a book about Janusz Korczak, a Polish Jewish doctor and children's author who devoted his life to caring for young people. Over many years he helped run an orphanage for two hundred Jewish children. In 1942, when the Nazis murdered these orphans, Janusz Korczak was offered his freedom but chose to die with the children rather than abandon them.
Janusz Korczak became a hero for me. His story sowed a seed in my imagination, and as I worked on Once that seed started to grow.
I knew that reading Felix's story would be a journey of discovery for most young readers and so I decided that the story should be a journey of discovery for Felix too, told in his own words. That way readers could experience the terrible and dismaying parts of the story through his eyes and his feelings, never far away from the joy and hope of his friendship with Zelda and the protection he receives from Barney. And so the story could be about the worst we are capable of as a species, and the best, side by side.
Once would also, I hoped, remind readers that history isn't the distant alien place it sometimes seems. It's the day to day lives of ordinary people, which is why each chapter in the book starts in the past tense, and then after a sentence or two shifts to the present tense. To the place where all history is made, by people just getting on with it, minute by minute.
I thought long and hard about whether I had permission to write this story. In the years immediately after the Holocaust, as the world struggled to come to terms with what had happened, there was a strongly-held view that if you hadn't experienced it, you shouldn't try to write about it.
But seventy years have passed. I knew from spending time with thousands of young people that this terrible and crucial part of our history was often not available to them and I believed it should be. So I set out to write a story that I hoped would point young readers towards the real voices of the Holocaust.
On the way to writing Once I encountered many real life stories – diaries, letters, notes and the memories of people who were young at the time of the Holocaust. Their voices, in print and recordings, along with those of the adults who shared their lives, live on in archives and libraries, with many available online.
Here are some of the books I read as part of my research, books that were particularly inspiring and helpful, books that ring with these real voices.
The King Of Children by Betty Jean Lifton
Salvaged Pages: Young Writers' Diaries Of The Holocaust, edited by Alexander Zapruder
The Hidden Children by Jane Marks
Words To Outlive Us: Eyewitness Accounts From The Warsaw Ghetto, edited by Michal Grynberg
Witness: Voices From The Holocaust, edited by Joshua M Greene & Shiva Kumar
A Childhood by Jona Oberski
Maus by Art Spiegelman
The Diary Of A Young Girl by Anne Frank
Born Guilty by Peter Sichrovsky
The Hidden Children by Howard Greenfeld
Children Of The Ghetto by Sheva Glas-Wiener
Konin: A Quest by Theo Richmond
The Boys by Martin Gilbert
Flares Of Memory: Stories Of Childhood During The Holocaust, edited by Anita Brostoff with Sheila Chamovitz
Yiddishland by Gerard Silvain & Henri Minczeles
Children With A Star by Deborah Dwork
Ghetto Diary by Janusz Korczak
Witnesses Of War: Children's Lives Under The Nazis by Nicholas Stargardt
The Righteous: The Unsung Heroes Of The Holocaust by Martin Gilbert
Holocaust Journey by Martin Gilbert
The Lost by Daniel Mendelsohn
The Mascot by Mark Kurzem
Bad Faith by Carmen Cahllil
Into That Darkness by Gitta Sereny
Albert Speer: His Battle With Truth by Gitta Sereny
The German Trauma by Gitta Sereny
Night by Elie Wiesel
If This Is A Man by Primo Levi
The Truce by Primo Levi
If Not Now, When? by Primo Levi
Eichmann In Jerusalem by Hannah Arendt
Nazi Hunter: The Wiesenthal File by Alan Levy
Long Shadows: Truth, Lies And History by Erna Paris
Stalingrad by Anthony Beever
Child Of The Holocaust by Jack Kuper
I Didn't Say Goodbye: Interviews With Children Of The Holocaust by Claudine Vegh
The Avengers: A Jewish War Story by Rich Cohen
Lest Innocent Blood Be Shed: The Story Of The Village Of Le Chambon And How Goodness Happened There by Philip P Hallie
The Lost Childhood by Yehuda Nir
A History Of The Jews In The Modern World by Howard M Sachar
There are of course many other real stories of the Holocaust in many other books. And if you have a Jewish or Holocaust museum near you, you'll find a wealth of memories in their archives that are perhaps not published elsewhere. If there isn't one near you, most have websites containing unforgettable personal stories. Putting 'Holocaust Museum' into Google or another search engine will give you many sites to explore.
Most preciously, a few children of the Holocaust are still physically with us. These survivors, who were a similar age to Felix and Zelda in those terrible years, are now in their eighties or older. But some still volunteer as speakers and guides in Holocaust centres around the world. Meeting them is a life-changing experience.
It's my hope that everyone who reads Felix's story will want to continue that journey of discovery and connect personally with the real voices of the Holocaust.
This story is my imagination trying to grasp the unimaginable.
Their stories are the real stories.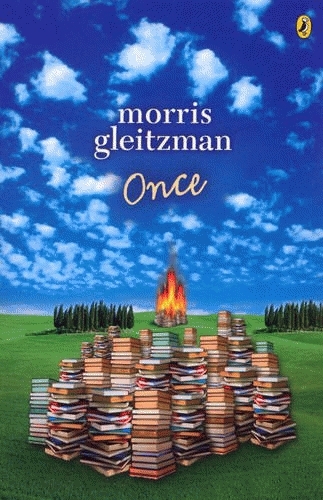 Once is available in bookshops and libraries in Australia, New Zealand, the UK and elsewhere, and online: